Final Thought for the Day 27.08.20
"On the evening of that first day of the week, when the disciples were together, with the doors locked for fear of the Jewish leaders, Jesus came and stood among them and said, 'Peace be with you!' After he said this, he showed them his hands and side. The disciples were overjoyed when they saw the Lord." John 20:19-20
This is the final Thought for the Day that we are going to send out…and in thinking about what to write, I looked back on the very first one I wrote which was on March 19th, the very first week of the 'lockdown'. It is fascinating to read that first one from the vantage point of being where we are now, 5 months on. In that first TFTD I based it on the passage quoted above where Jesus appears to the fearful disciples and says, "Peace be with you!" Let me quote from that first TFTD where I said this:
'Jesus, right in the midst of this says, "Peace be with you!" God hasn't abandoned us in this time of crisis. He says, 'I am with you in it'!
Think about it for a moment…who does Jesus say these words to?
He says them to disciples who are living in fear for their lives. They have seen their friend, Jesus, taken away and killed in the most cruel way possible.  And they may be next to die.
Peace was the one thing they most certainly didn't have. You can't have peace when you think that someone is about to arrest you and crucify you!
Then a voice said, "Peace be with you". Not just any voice – Jesus's voice.
How we need the peace giving Spirit of Jesus. How much does this world need to know that too.
"Peace be with you! As the Father has sent me, I am sending you."
Whatever you are going through right now, Jesus has promised to be with you.'
That truth still holds…over 5 months into this 'new normal' world we are in, on Jesus is still with us, whatever our individual circumstances and He says to each of us with gentleness and love and authority: "Peace be with you! As the Father has sent me, I am sending you."
May I take this opportunity to express a heartfelt and sincere 'thank you' to all those who have contributed to these Thought for the Days over these months…there are too many of you to name, but you know who you are (!) and may God bless you for the hours of thinking, praying and writing that have gone into these daily reflections – maybe they should be published in a book some day!!
Even though TFTD is coming to an end, we know God's thoughts never end ("How great are your works Lord, how profound your thoughts!" Ps 92:5) and we know He is ever faithful, and He sees the beginning and the end!
May God bless you and be with you as He gives us all His peace!   
Rev Peter Hubbard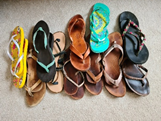 TFTD 30.07.20
Why are you cast down, O my soul,
and why are you disquieted within me?
Hope in God; for I shall again praise him,
my help 6 and my God. (Psalm 42:5-6a)
I am a summer person. I love sunny days, temperatures over 25degrees c (that's 77 Fahrenheit by the way!) put a smile on my face. What's more summer means it is flip flop season. I have possibly more pairs of flip flops than I need – beach flip flops, pool flip flops, hiking flip flops – I have been known to do over 8 miles in a flip flop as well as scramble  up Greek mountains with the mountain goats.
And flip flops are more than a shoe, they unite me with history, in fact, a pair of flip flops dating back to 1,500 BC, the oldest known surviving pair, are from Egypt and on display at the British Museum. They are made of papyrus and palm. Sandals and their flip flop varieties are known to have existed throughout the world in Mesopotamia, India, Greece and Asia. Who knows, perhaps me and Jesus have worn similar footwear?
When it is time to get the flip flops from the back of the wardrobe it gives me hope, the dark short days of winter are over, longer warmer days are coming. But of course, I am a Christian (I hope you'd noticed!) which means that I have a much deeper hope than comes from a pile of flip flops waiting to run through the sand.
Yet I am sure that all of us who know this hope still equally understand the psalmist's frustration as they write this. Their soul is downcast, despite the hope and so the psalmist continues with great advice for the disquieted soul – hope in God – for there will be reason to praise him again. It isn't always easy, being a Christian won't always be like living a happy dream, but God remains there for you in good times and bad.
I read an article on flip flops which said, 'With its rich long history, the flip flop is simultaneously yesterday, today, and tomorrow.' Yet a flip flop can be discarded, a flip flop won't last forever. Unlike our God, which is why despite my love of flip flops, my hope is in Jesus. The summer won't last forever, but God's unchanging love will. Today, whether your soul is downcast or whether it is joyful, know that hope in God will weather any storm.
 Remember, you can send your prayer request to: Prayer@baystonhillchurch.org Or ring: (01743) 583215
May you feel hope this week.
Rachael
TFTD 28.07.20
 'I am the resurrection and the life…' (John 11.25)
 Tidying through some drawers, as one does during days of lockdown, I came across some scribbled notes written when I was thinking about some of the great 'I AM' statements and other claims made by Jesus. It occurred to me to wonder at the paradoxes which can be seen in many of them. For example, the beginning of John's Gospel proclaims that The Word was made flesh, and made his dwelling with us. Yet that Word came as a helpless, wordless baby, and so the Light of the World was born in a dark stable and later descended into the darkness of death. The Good Shepherd became the sacrificial lamb, and The Bread of Life was also the ear of wheat sown into the ground to produce the harvest. Jesus told the Samaritan woman that he would give her The Water of Life so that she would not need to keep going to the well, and yet on the cross he said 'I thirst'. He claimed to be The Gate, leading to The way, the Truth and the Life, yet his followers were mystified by this path that led to his rejection and death. God's ways are indeed past simple, human understanding.
 The words of a very well-known hymn express exactly what was happening:
He left his Father's throne above,
So free, so infinite his grace;
Emptied himself of all but love
And bled for Adam's helpless race.
'Tis mercy all, immense and free
For, O my God, it found out me.
 Now consider another paradox: Peter calls Jesus the stone, or rubble, rejected by builders as being of no use in the making of houses. But that very stone has become the cornerstone, the foundation of Christ's Church, as also of our own, humbler edifices. Remember, too, his great promise, which we can trust implicitly even though it appears a paradox: I am the resurrection and the life. He who believes in me will live, even though he dies.
 Ruth Tiller 
TFTD 23.07.20                                                             Rev Peter Hubbard
"When I saw him, I fell at his feet as though dead. Then he placed his right hand on me and said: 'Do not be afraid. I am the First and the Last. I am the Living One; I was dead, and now look, I am alive for ever and ever! And I hold the keys of death and Hades."  (Revelation 1:17-18)
We find many reasons for fear in this life, and death is often at the top of the list.
Whether it's cancer or a contagious new virus, such as the coronavirus we are all very aware of right now, reminders of our mortality can shake our security and peace. Christ's promise of eternal life soothes our doubts about eternity, but we might fear the process of dying or dread the loss of our loved ones.
In the book of Revelation, God gives us hope as we face all our fears. He pulls back the curtain of heaven to show us the present reality of Christ's reign and the future consummation of His triumph over the grave. Turning our eyes to our victorious Lord Jesus gives us hope and comfort in the face of death.
In today's verse, John has seen the Lord standing in the midst of the seven lampstands. (Revelation 1:12-16) John then falls on his face in reverent awe of the power and majesty of Christ.
In Christ's words, we find a command —"fear not"— and three reasons to trust Him. We can live fearlessly in a frightening world because of who Christ is, what He has done and what He will do.
1)    Jesus is the first and the last. The Son was with the Father in the beginning, and He will reign forever. Through Him, we have a living hope that will never end.
2)    Jesus died and rose again. Christ died the death we deserved and secured our eternal life. His resurrection guarantees the future resurrection of all who belong to Him. Because He lives, we also will live.
3)    Jesus has "the keys of death and Hades." Christ's resurrection also demonstrates His dominion over the grave. Death may break our hearts now, but its impact is fleeting because of the eternal victory He has won. Revelation promises that when Christ returns and makes His dwelling with us, there will be no more death, no more pain and no more tears.
Christ's victory isn't just a future expectation; it's a present reality. God has conquered death and given you new life. (2 Corinthians 5:17) And one day soon, He will make all things new. This is the message of Revelation that brings hope and light to our deepest fears and darkest moments.
So, remember, in the midst of all this uncertainty we're in, we have these reasons to fear no evil. (Psalm 23:4)
Our Shepherd is the Alpha and Omega.
Our Saviour died and rose again.
Our Sovereign Lord holds "the keys of Death and Hades."
Remember you can send your prayer request to:
Prayer@baystonhillchurch.org  Or ring: (01743) 583215
CONFIDENCE IN THE GOODNESS OF GOD
"I remain confident of this: I will see the goodness of the LORD in the land of the living. Wait for the Lord; be strong and take heart and wait for the Lord." Psalm 27:13-14 (NIV)
Whilst on holiday recently and spending time with God looking at Psalm 27, a little 5 year old boy that I used to teach mysteriously popped into my thoughts.  Now, I have to admit, initially I found this particular boy (we'll call him Tommy) a real handful. His enthusiasm and zeal for life seemed to spill over constantly as he would leap up and show me the latest skill he had acquired or share the burning piece of news he had about his hamster at the most inopportune moments! However, overtime my attitude towards him began to change as I began to view his exuberance differently.  I recalled the way that each time he came to read with me, he came so enthusiastically despite finding reading so hard.  As he studied the sentences on the page of the open book, he'd scrunch his eyebrows in earnest effort. "Do you know what this says?" I'd ask as I pointed to the bold printed words that told a simple story.  He'd do his best to sound out the letters, but eventually, he'd admit his confusion!
"I don't know what that says. But I do know how to jump on one foot! Wanna watch me?"
With a giddy grin, he'd leap out of his chair and hop up and down!  When a new set of words stumped him, his answer was much the same
"I don't know what that says, but I do know how to tie my shoe lace! Wanna see?"
Reading didn't come easily for Tommy, but he refused to give up. This exuberant little boy didn't relinquish his confidence in the middle of the struggle. He persevered when the words on the page didn't make sense and the process of learning felt difficult. Week after week when I listened to him read he came with the humility to name what he didn't know and the boldness to declare what he did. And as he did that slowly but surely, his reading improved and I began to view Tommy with admiration and affection rather than frustration and I also started to see what a valuable lesson I could learn from him.
It's been years since I was last in a classroom but when I read King David's words in Psalm 27, I remembered Tommy and I got to wondering.  Do I approach God like David did and like this 5 year old boy? In this time of struggle, when life has changed so much and many of the things we took for granted are no longer givens, do I have the humility to be real with myself and with God about the things I don't know and that I struggle with, whilst boldly declaring the things I do know?  Namely, that whatever the circumstances of my life might be; God is infinitely good, God is enduringly faithful and God is unswervingly for me and with me.   
Of course, David wasn't sitting in a classroom when he penned this sacred sliver of Scripture but like us, he was standing in a season of struggle. In fact, the list of difficulties David mentions are considerable and persistent  — trouble from enemies, advances from adversaries and attacks from violent men (vv. 2-3, 11-12).  If I were David, I might have let the struggle that surrounded me steal the confidence that had grounded me. After all, David's circumstances don't seem to match up one bit with the promises God has given him. God had handpicked David as king and promised him an enduring legacy and yet enemies still rivalled his rule, and discord still taunted his peace.  That's where faith gets hard, doesn't it? Right in the middle of the struggle. And friends, whatever personal struggles we may be facing, we are all in the middle of an ongoing struggle as life as we know it continues to be radically affected by this virus.  That's where our hope can be sabotaged by what we don't know, and our conviction shaken by what we don't understand.  The middle of the struggle is where I'm most prone to quit, I can easily run out of steam as it all feels so relentlessly challenging.  It's where I'm tempted to give up on God's promises and question His faithfulness. Maybe you are too?
But David chose differently and we can too!  The declarations that flank Psalm 27 focus his attention on who God is rather than the circumstances that threaten to discourage and cause him to quit the battle.
"The LORD is my light and my salvation — so why should I be afraid? The LORD is the stronghold of my life – whom shall I fear? ….For in the day of trouble He will keep me safe in His dwelling; He will hide me in the shelter of His tabernacle and set me upon a high rock.  (Psalm 27:1 and 5 NIV)
David might be confused by the hardship he's facing. But he refuses to let what he doesn't know steal the surety of what he does.
I want to trust God with that kind of confidence, don't you?  So, as we go on through this time of struggle and uncertainty, let's keep showing up and looking up like David did and let's be Tommys who honestly and unashamedly admit what we don't yet know whilst boldly proclaiming what we do. 
I don't know that, but I do know this!…..  " I will see the goodness of the Lord in the land of the living" (v. 13). Amen
Debbie Hubbard
TFTD 16.07.20
Do this in remembrance of me (See Luke 22:18-20)
 Remembering is a funny thing. We might be in the same place as someone else but remember it in a different way. A smell from childhood can take you back to being in a school dining hall all over again. As someone who went into Oakmeadow quite a few times, I can tell you it smelt exactly like my primary school!
 And how often do we actively remember something? It is an especially common thing to do amongst old friends, 'Do you remember when..?' and together you go back to a past event -often there is a smile playing about the lips as you remember something silly (like the God and Jesus game I played on my friends climbing frame – you slid down the blue slide (the sky) to become Jesus!?)
 Remembering is important. We have the sacrament of communion as a way of tangibly remembering Jesus.  There's a physical action, it involves touch, taste and community, all coming together so that we might 'Do this remembrance of me.'
 There is a sense of loss as we're not physically meeting together at the moment, but that doesn't stop us being able to remember Jesus and it doesn't stop us being a community and remembering each other. Our services, with or without communion remind us of God's work for us as a people, not just me as an individual.
'Do this in remembrance of me' should remind us not only of our relationship with Jesus, but of our relationship with each other. And although we currently aren't sharing bread and wine together, we can hold each other before God. We can remember that Jesus didn't just die for us as an individual, but he died for all. The ground at the cross is level ground, we are all equal in the eyes of God.
To do this in remembrance of Christ means we take action – action that sees us loving like Jesus. We love and accept and pray for one another regardless of differences. We remember that Jesus loved his people enough to die for them (us) and that leads to our taking action to love each other in that same way. That's truly doing communion in remembrance of Jesus.
Remember, you can send your prayer request to: Prayer@baystonhillchurch.org Or ring: (01743) 583215
May you feel close to God as you remember him this week.
Rachael
TFTD 14.07.20
There's a new series of programmes on the TV.  I think it's all about fashion, which doesn't interest me very much.  But I am more than a little disturbed by it's title.  "You are what you wear".  The problem is, that's a lie.  Despite all the aggressive propaganda by the fashion police, the shaming of people because of their weight or the ridiculing people for wearing last year's colours or styles, we are not defined by what we wear. I need to be clear here.  I am not decrying dressing smartly or taking pride in your appearance.   But some people seem to believe that by spending thousands of pounds not only on clothes, but also on cosmetic surgery, getting things tightened, lifted, enlarged, reduced or tucked, is the way to be liked, loved and popular.
Of course we all want to be loved, it's a basic need within us.  People try all sorts of strategies to make people love them, to earn approval, to be in with the crowd.  Dressing to impress or to please is one of those strategies. But dressing in a certain way or seeking perfection in your body shape is not a successful strategy for being liked or loved. It doesn't work.  There may be some initial, limited success but a relationship based on how you look is shallow and will not survive the inevitable trials which life involves.
The pity is of course that these people, obsessed by looks, are already loved and they don't need to do anything to earn it or change anything to receive it, or pretend to be something they are not to be accepted.  They just don't realise it.  God loves each one of us as His children. He loves us to bits.  John writes "How great is the love the Father has lavished on us"  (1 John 3:1).  Lavished is an extravagant, generous, bountiful word.   In His love for us there's no holding back,  there's no end to it. We read in Psalm 139 that He has known us since before we were born, He knows everything about us, even our thoughts, nothing is hidden from Him.  That means he also knows the very worst about us, the things we wouldn't want anyone to find out about, things we are ashamed of. He knows us 'warts and all' as they say.  The amazing thing is that despite that, He loves us still.
His love for us is constant, everlasting and committed.  In fact we read that He loved us so much that He was prepared to die for us.  As Paul wrote "The Son of God who loved me and gave himself for me" (Gal 3:20). Loved me …. gave himself for me.  Wow, that's amazing.  You might say that you'd love to be loved like that.  Well you are! God loves you to bits, He's nutty about you and is always working for the very best for you. If you've never realised that before I encourage you to find out about the love God has for you.  But I know that many who read 'Thought of for the day' will already know this.  Can I encourage you never to take this love for granted, but remind yourself at the beginning of every day that you are a child of God and deeply loved by Him. 
"You are what you wear"?  Tosh.  What you are is a child of God and are loved by Him with an extravagant, tireless, unlimited, inexhaustible love.  And He really doesn't care what you wear!
                                                                                                John Langridge
Remember, you can send your prayer request to: Prayer@baystonhillchurch.org    
 Or ring: (01743) 583215
And you can read these Thought for the Day articles on our website too at www.baystonhillchurch.org
TFTD 09.07.20
Revelation 3:20 NIV
Here I am! I stand at the door and knock. If anyone hears my voice and opens the door, I will come in and eat with that person, and they with me.
As I read this verse it seemed particularly poignant in our current circumstances – although restrictions have eased a little the
carefree days of gathering with friends and sharing food together are still a distant  hope. Yet here, in this verse from revelation is the intimacy of a welcome and sharing with no suggestion of social distancing or PPE, the intimacy of a relationship with our Heavenly Father that is freely available to all.
I went for a walk on the Stiperstones yesterday. I drove up from the valley and the hills were covered in mist – I wondered if I would see anything from the top. But as I started out on my walk, aware that I was carrying the stress of trying to run a small business under the current restrictions, the mist cleared, the sun shone and I could see miles of surrounding countryside. An object lesson orchestrated by the Holy Spirit that spoke to the core of my being. If we more fully open the door, accepting the invitation of our Heavenly Father, then we see the wider view – the closer we walk with Jesus the wider our vision, the mist clears and we can journey on with His perspective for our lives. Emmanuel, God with us.
God bless you. Ursula.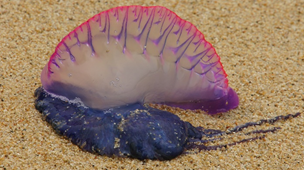 TFTD 07.07.20
 'So in Christ we, though many, form one body, and each member belongs to all the others.'  (Rom 12:5)
I was recently listening to a podcast that included information on the Portuguese Man-of-war. These fascinating creatures are a 'colonial organism' which means they are made up of many specialized, though genetically distinct, parts. And hearing this reminded me of the passage we had one Sunday recently about all of us having different gifts but each of us being part of the whole. (1 Corinthians 12:12-27)
After listening to the podcast, I wanted to see what these creatures looked like (see above in case you were wondering). I couldn't tell by looking at it that it was made up of distinct parts. I think it is surprisingly beautiful – despite the fact that its poison is very painful and has been known (though rarely) to kill a human!
If, as a church we are meant to be one body, that means we are all working for one purpose. We all belong to one another and no part is more important than another.
In the case of the Portuguese man-of-war this purpose is simply to eat and survive. No part of the Portuguese man-of-war can survive alone. It needs the other parts.
What is the purpose of the body of Christ? It is more than to eat and survive! There are many angles to take in answering that question, but simply I believe we are to further God's kingdom on earth and we do this by sharing the love of God in the way we support and look out for one another. Just like the Portuguese man-of-war no one part of the body of Christ can survive without the other. I am not my own, I am God's and I am yours, we are each other's. Throughout this time of lockdown, I think we have shown what the body of Christ can do. I know many stories of people looking out for one another. As lockdown begins to ease let us not forget about each other, about those who (for good reason) remain fearful, 'each member belongs to all the others.'
Remember, you can send your prayer request to: Prayer@baystonhillchurch.org Or ring: (01743) 583215
May you feel connected to the body of Christ this week.
Rachael
TFTD 03.07.20
'I'll labour night and day
To be a pilgrim.'
John Bunyan's famous pilgrim hymn is one we often sing with some fervour, although I sometimes regret that the tune encourages us to put undue emphasis on the second syllable ('to be a pilgrim'). It may be true that we do sometimes need grim determination to keep to the right path, but that isn't the complete picture of our pilgrimage! True, the term is somewhat loosely applied these days to what amounts to not much more than a pleasant day out to visit some place of interest, so maybe it is good to be reminded of the serious intent of a pilgrim's journey.
John Bunyan was born and lived in a village near Bedford in the seventeenth century. He was imprisoned for many years because of his refusal to stop preaching, but the town is nowadays proud to claim him as a famous son. When we were living there, our children were all set school projects about him, first in their Junior schools, and then again (how unimaginative!) in their newly instituted Middle schools. But even I, in my younger years and not in Bedford, was taught about him. I can still remember a poem that I wrote:
Christian started off one day
With a burden like a load of hay.
He fell into the S;lough of Despond,
Which was a great big murky pond.
Well, I was only eight at the time! 
Christian meets with many setbacks and hazards on his journey in Pilgrim's Progress. One such occurred as he approached the House Beautiful, where he hoped to find peaceful lodgings for the night. However, he was suddenly confronted by two pilgrims named Mistrust and Timorous running hard in the opposite direction. They urged him to turn with them because there were lions ahead. Poor Christian continued, but somewhat apprehensively. The path narrowed as it neared the house – but the porter on duty there told him not to fear, as the lions were chained. He still had to hold his nerve, and somehow pass them – and so he reached his destination.
It was while we were living in Bedford that I was caught up in a quite extraordinary situation, which was so awful that as I set off to work one morning my resolve failed me, and I stopped in my tracks, ready to turn round and return home. Suddenly those words leapt into my mind: The lions are chained, and somewhat fearfully I decided to continue. Sadly, it wasn't the House Beautiful that I was going to – but at least the lions didn't devour me. And fortunately, our pilgrimages do contain many peaceful and tranquil resting places on the way.                                         Ruth Tiller
 TFTD 01.07.20
"Ascribe to the Lord, all you families of nations,
    ascribe to the Lord glory and strength.
 Ascribe to the Lord the glory due to his name;
    bring an offering and come into his courts."  (Psalm 96:7-8)
I have been so blessed recently that I want to share it with everyone!  (Which means I would love to know how others have been blessed too!) One of the points in Peter's sermon last Sunday (28th June) was to remind us that we are all different.  His focus was on our own Christ Church Christian community and he challenged us to celebrate the differences which go to make up the team that we are – the body of Christ here.  It's possible for us to carry on with our lives unconsciously not noticing the larger focus of this, and therefore missing out on a glorious reality which reveals a God of so much more variety than we acknowledge.  I have listened to the BBC radio 4 services during lockdown (8.10am, but I listen later in the day, and often listen twice).  I have heard Christians from Manchester, Cardiff, London, Iona and elsewhere, and every service included voices with different accents, clearly voices of people who have come from abroad to live here.  The Fathers' Day service was presented by three Londoners and was particularly moving and challenging. 
 The "UK blessing" (a sung version of the OT blessing, "May the lord bless you and keep you …", found on youtube) was inspiring to me because I was struck by the variety of minority communities who are part of our body, the body of Christ, here in the UK.  I went on to find the French and Australian versions and saw more of my brothers and sisters around the world.   And then I found the Irish version which began, before singing the blessing, with a glorious celebration of Christianity within the Irish culture, using "Be thou my vision", attributed to an Irish saint of the 6th century.
I love the verse of the hymn: "As o'er each continent and island the earth moves on another day, the voice of prayer is never silent, nor dies the strain of praise away".  This voice of prayer will be words foreign to us, songs, dance, silence, thoughts, imaginings …  and our own prayers take up the never-ending chain of prayer around the world. 
 Psalm 96 is a jubilant song of praise: "Ascribe to the Lord, all you families of nations, ascribe to the Lord glory and strength …".  Let's revel in the joy of the diversity of our world-wide family of God.
Eleanor Aldred
Remember you can send your prayer request to: Prayer@baystonhillchurch.org Or ring: (01743) 583215
And you can read these Thought for the Day articles on our website too at www.baystonhillchurch.org
TFTD 29.06.20
I have to admit, I was struggling.  My turn for Thought For The Day was looming and I had no thoughts, none at least which were suitable to share.  Then as I opened up my bible, there it was, jumping out at me, hitting me right between the eyes.   Who would have thought it – from the bible!
Three simple words.  Three powerful words.  A strong and unequivocal declaration. The opening words of Psalm 97
THE LORD REIGNS
The Lord, the almighty, all knowing, ever present, creator, eternal, holy, righteous, majestic God; full to overflowing with glory, mercy and grace; the one who loves all He has made with an extravagant never ending passion … this God reigns. That is, He is sovereign.  Sovereign means He has supreme authority and power and all things are under His control.   Phew!  Thank goodness!  Of course, I knew that.  But sometimes, as the world, life and it's problems close in and attempt to overwhelm us, we need reminding – THE  LORD REIGNS.
When I look around at some of the seriously erratic, dangerous world leaders in other countries, some of whom have nuclear weapons, I could be very afraid.  But they are to God as dust to be blown away (Isaiah 40:23,24)   – for all their pride and arrogance they are no match for our God.  THE LORD REIGNS
When I am confronted by injustice, greed, selfishness and evil men seem to prosper, I fear that justice and goodness are being swept away.  But there will  be a day of reckoning for everyone, all evil doers will be dealt with (Matt 16:27) Our God is a God of justice and righteousness – they may gloat and boast now, but God will not be mocked.  THE  LORD REIGNS.
When I am struggling with my personal circumstances or fearful for the troubles of those I love, I am afraid of what the future might hold.  But our God is a God of love and wants only the best for us.  Whatever we face He is with us in it and our eternal future is safe in His hands. (1 John 3:1, John 10:27,28)  The world is a troubled place, but He is with me and anyway I'm just passing through to a better place.   THE LORD REIGNS
Knowing that this God, who longs for the very best for us, is ultimately in control and none can thwart His purposes, assures me that "all shall be well and all manner of thing shall be well".  Sure He does things and allows things that I don't understand.  But I have confidence that His wisdom is far greater than mine. (Isaiah 55:8,9)  So I have a peace that the world cannot give because THE LORD REIGNS                  
                                                                   John Langridge
Remember, you can send your prayer request to: Prayer@baystonhillchurch.org     
Or ring: (01743) 583215
And you can read these Thought for the Day articles on our website too at www.baystonhillchurch.org
TFTD 24.06.20
TRUTHFUL WORSHIP
"Yet a time is coming and has now come when the true worshipers will worship the Father in the Spirit and in truth, for they are the kind of worshipers the
Father seeks." John 4:23 (NIV)
I don't know about you, but I am a stickler for truth. I like to dig down to the heart of things and uncover the truth of what's going on. I love honest conversations where people are real with me about how they feel and allow me to do the same and if something is wrong in a relationship I want to discover what it is, confront it honestly and try to resolve it. This can make me a bit hard to live with, especially if you want a quiet life! It means confronting the truth of who I am too and that's often painful but I do it because I believe it leads to transformation and freedom. Our children know that it's always much better to come clean about things straight away rather than try to hide the truth, as the thing that makes me more furious than anything that they might have done is lying! We have a phrase in our house and its "own your stuff" – in other words when we mess up we try to own it rather than deny, explain it away or blame someone else for it. Not always very easy and we don't always get it right but I think it's worth doing because it deepens our relationships and builds a culture of trust and forgiveness within our family and within our
friendships too.
The verses I have chosen to focus on today are part of the well known conversation that Jesus has with the woman at the well. And what I want to share with you is what I believe God has been saying to me through a powerful devotion by a writer and broadcaster called Carrie Lloyd entitled "For our own sake, we tell the truth". Some of what I write are her words and so I want to attribute them to her as we start.
This is an amazing passage of Scripture – do read it all if you can. You see this Samaritan woman in John Chapter 4 was confronted with two kinds of truth; the truth about who Jesus is and the truth about herself. When I read the account, it reminds me, as Carrie points out, that Jesus is in fact the finest truth teller that ever lived. You see Jesus never avoided honest conversations. He revelled in them. Why else would He make space and wait upon the hottest hour of the day for a woman who was outcast by society? He seeks the honest ones – ones who will worship Him in spirit and in truth. The truth of who God is in all His infinite greatness and goodness most certainly, and I also believe, the truth of who we are too.
I wonder what truth about yourself has been surfacing within the chaos and uncertainty of the pandemic we are now in? I wonder am I alone in having been confronted with some uncomfortable truths about my character and my behaviour? It's been like holding a mirror up and in it at times I've seen resentment, self righteousness, emotional insecurity and control, mixed in with (thankfully!) some of the fruit God is growing in me of compassion, grace, kindness and self control. Some of what is coming to the surface in the chaos or in the silence (whichever one we find ourselves in) can feel uncomfortable can't it, and there aren't the  distractions there anymore for us to be able to hide from the truth. As I've said before everything is heightened. But I wonder, how helpful were these distractions in allowing us to come before God honestly and worship Him in spirit and in truth? What if in every moment we hid, we missed an opportunity to experience the beauty of God working in our lives and transforming us into more of who we are truly meant to be?
Let's go back for a moment to the woman at the well. I wonder if like me you have puzzled over why Jesus asked her to fetch her husband? This can appear harsh, even cruel, especially when He already knew she'd had five husbands, and the one she lived with was not her husband. Was Jesus trying to shame her or put her in her place? No, Jesus is not falling foul here of His own teachings; He's a master of them! As Carrie writes, I think He wanted to see if she was prepared to own her truth, her own choices. He wanted to see if she was the kind of soil He could sow into. Wow!! She was hungry enough for wisdom and for truth to forgo protecting her
own ego. She didn't tell Him what she thought He'd want to hear. She didn't defend her behaviour. She "owned her stuff" and she simply replied, "I have no husband" (John 4:17). To which Jesus replies "What you have just said is quite true" (John 4:18). For true worship, according to Jesus, was coming: "God is Spirit, and those who worship Him must worship in spirit and truth" (John 4:24).
Can we ever worship Him fully if we're not walking in truth? You see I think that if we're not honest before God about the aspects of ourselves we'd sooner avoid, we're missing out on the opportunity to discover the wonder of His freedom and missing out on His design for us. Denial puts distance between us and God, but honesty pulls us close! And it does the same in our other relationships too. You see, in the great strength and certainty of His undying, never-going to- abandon-us love, we have no excuse to run, but every reason and confidence to face the truth of who we are and to hold onto God's hope and promise for who we can be. In this divine appointment between Jesus and the Samaritan woman we learn that truth isn't repulsive its revelatory. It can be the same for us too. And it allows us to  experience the most freeing worship we could ever know!
Debbie Hubbard
TFTD 22.06.20
 I'm just going to show off for a minute – 'when I was running this week' I listened to a HTB podcast (Holy Trinity, Brompton).  I can't remember the name of the lady who was speaking but she was talking about the story of Joshua .  As I usually have to concentrate on my breathing I wasn't listening too intently, but nevertheless the message got home  (and so did I!)
 We read that Joshua was full of the spirit of wisdom.  The Lord was kind to him and spoke about how He would provide for Joshua and that Joshua was not to be afraid – for the Lord your God is with you wherever you go.
 Joshua seemed to be aware of his own weakness but took what God had spoken to him to heart.  He led the army – He only did what God told him.  He refused to waver from what he was asked to do (read Joshua to get the full picture).  We are told that he had to circle the city 6 times .  Imagine having to convey this to his army – but Joshua and the army did as they were told and on the seventh time he asked the men to blow the trumpet – and the walls came tumbling down.
 I think there is a message here for us today!  We are living in unprecedented days – I know that phrase is a little over-used.  Who could have foreseen that we would be in lock-down, that our churches would be closed – that there would be a sort of plague all over the world.  Yet, we know, that God is in control in these days.  He has been very gracious to us – we are having some good times on Sunday mornings, community and taking care of each other has been re-emphasised.  There is so much excellent stuff on-line that we can feed on from the Lord.
 The unity we once had a as a nation only 13 weeks ago seems to be disappearing very quickly.  There is a lot of sniping going on – 'if only the government had done this or that things would be different'.  We are living in these days knowing the grace of God – let us continue to go on with him – like the 7th time round the city.  Let our trust in Him have its perfect work, let's not complain about this or that.  Let's bring joy to others as we trust God every day – and maybe we will start to see some walls come down.
 Sarah Birchall
TFTD 19.06.20
But the Lord said…'Should I not be concerned about that great city?'
(Jonah 4.10-11)
The Book of Jonah in the Old Testament is numbered among the prophets, yet it is not so much a book of prophecy as a book about a prophet. Jonah appears as a very disobedient and grumpy servant of the Lord. First, having been told to call the citizens of Nineveh, the largest city in the world in his day, to repent of their sins, he sets off in the opposite direction and gets shipwrecked. God saves him from drowning and patiently gives him the same mission to Nineveh. This time he goes and tells them they have got forty days in which to repent or be destroyed. To his amazement everyone repents.
But now he is worried his credibility as a prophet has been ruined; for who knows if the people of Nineveh would really have been destroyed? He is cross with God and tries to justify his reluctance to obey at first: I knew that you are a gracious and compassionate God, slow to anger and abounding in love, a God who relents from sending calamity. (Jonah 4.2). His black mood continues as a quick-growing plant gives him shade from the scorching sun but dies overnight, so he is left without protection next day. He feels his life isn't worth living. 
God now tells Jonah that he mourns the loss of one short-lived plant, but wishes the whole city of Nineveh had suffered destruction. Can he not see how God would mourn such a loss? The old Authorised Version of the Bible puts the words of the last verse in a different order, which gives us the force of God's compassion extending to, not only the 120,000 ignorant citizens, but also much cattle.
Jonah's greatest insight, though he doesn't know it, is that God is gracious and compassionate…, slow to anger and abounding in love.
Notice it is Jonah, not God, who gives the Ninevites forty days to repent.
Such a God, we may be sure, mourns over the loss of every person from Covid-19. It would be the same for anyone struck by lightning, lost at sea, or burnt to death. We don't live in a risk-free world, but we have the capacity to know God as our refuge. God's greatest sorrow is that so many choose to live without him, and prefer instead to find their own way.                                                                        John Tiller