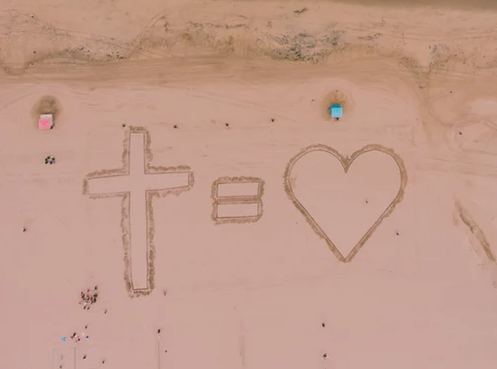 TFTD 02/04/2020 
"May our Lord Jesus Christ himself and God our Father, who loved us and, in his grace, gave us unfailing courage and a firm hope, encourage you and strengthen you to always do and say what is good."
 2 Thessalonians 2:16-17
These are challenging times that can so easily bring us low and create anxiety and uncertainty about what the future holds. You turn the news on and all you seem to hear is all the negatives, and very few positives. But as one of my home group members said as we met virtually using Zoom, 'our God is a good God who brings good out of difficult times.' What a truth and encouragement this is.
I for one feel that this is an opportunity for our battered and tired environment to rest; after all, God's creation is entrusted to us to look after it. Let's hope that we will come out of these times with a much-improved perspective of God's creation and our responsibility for it.
Let us hold on to this unfailing courage and hope freely given to us to encourage us, as stated by Paul in these verses and always do and say what is good and help to sustain this universe created by our God for our enjoyment.  Mark Underwood
Remember, you can send your prayer request to: Prayer@baystonhillchurch.org      Or ring: (01743) 583215
And you can read these Thought for the Day articles on our website too at www.baystonhillchurch.org
TFTD 01/04/2020
His compassions never fail.
"For the mountains may depart and the hills be removed,
but my steadfast love shall not depart from you,
and my covenant of peace shall not be removed,
says the Lord, who has compassion on you." Isaiah 54:10
I wonder what you are grieving the most at the moment?  Is it the loss of your freedom, is it being apart from those you love, is it the postponement of things you have been looking forward to for a long time, is it being able to give and receive a hug?  One of the things that Peter and I grieved last Friday was the ability to go out of Bayston Hill, into the hills and recharge in the beauty of God's creation, and be just us.  We are so blessed to have Lyth Hill to walk on, but in that moment it felt like the 'hills had been removed'!
Friday was our hardest day yet, and not only because of that, but as I wept in the early hours of Saturday, tears for myself, my family and the suffering of so many, God took me back to this verse that He had given me so powerfully 2 weeks before – before any restrictions had begun to be placed on our daily lives.  They brought such comfort and such hope and my prayer is that they will for you too.
'but my steadfast love shall not depart from you' – God's love for you is unshakeable and unchanging and nothing not even Covid 19 can separate you from it!
'my covenant of peace shall not be removed' – Whatever you are grieving and whatever has been and may be removed from us, God's covenant and promise of peace still stands.  (It has not always felt peaceful in our household but God's peace is always available to us, and when Peter and I have sought it, it has come, sometimes in an instant because nothing is impossible with God!)
'says the Lord who has compassion on you' – I don't know about you but at times already I have experienced compassion fatigue but God's compassions never fail.  They are new every morning!  Lamentations 3:22.
May God bless, comfort and strengthen you today.  Debbie
Remember, you can send your prayer request to: Prayer@baystonhillchurch.org      Or ring: (01743) 583215
And you can read these Thought for the Day articles on our website too at www.baystonhillchurch.org
TFTD 31/03/2020
We were making bread yesterday and as the smell of the baking filled the air
my thoughts went to the phrase from The Lord's Prayer: 'Give us this day
our daily bread'. Of course, there are occasions when we need to consider
future plans – I'm sure many of us have wondered about the future in these
uncertain times. But, as Philippians 4 verse 6 says ' Do not be anxious
about anything, but in every situation, by prayer and petition, with
thanksgiving, present your requests to God'. I was struck as I reflected on
this verse how many times during my life I will have prayed 'Give us this day
our daily bread'. Each time asking my Heavenly Father to provide just what I
needed for that day, no more, no less. And looking back I can see that during
times of hope or joy or challenge, highs and lows, He has indeed provided.
Times of stress or challenge often prompt us to be more diligent in our
prayers but notice that Jesus tells us to pray for our daily bread. Bread, the
most basic and universal of commodities. We are told to pray for all of life's
necessities, not just during times of trial. As we go about our routine,
mundane lives Jesus tells us to ask for all we need. These times will pass,
restrictions will be lifted and, as John reminded us yesterday, we can use this
time to deepen our understanding of God's ways, to get match fit. Learn to
live life more dependant on our Heavenly Father, to become more aware of
the movements of the Holy Spirit and to rejoice in all that Jesus did for us. To
gain a deeper understanding of the words we often recite together at the
offertory – from 1 Chronicles 29 verse 14 – 'all that we have comes from you,
and of your own do we give you'.
So, as Jesus tells us, let's pray each day that our Heavenly Father will indeed
'Give us this day our daily bread' and trust each day in His provision for us.
My prayer for us all today is taken from Romans 15 verse 13…….. May the
God of hope fill us with all joy and peace in believing, so that by the power of
the Holy Spirit we may abound in hope. Amen.
God bless you. Ursula.
Remember, you can send your prayer request to: Prayer@baystonhillchurch.org
Or ring: (01743) 583215
And you can read these Thought for the Day articles on our website too at
www.baystonhillchurch.org
TFTD 30/03/20
I have been thinking that one of the positive outcomes of this 'Lockdown' might well be some beautiful gardens come the summer.  Suddenly lots of people have more time to spend tending their garden, the results of that hard work will become gloriously obvious as the summer progresses.  Of course we all know what happens when gardens don't get tended.  Without tender loving care nature quickly takes over. 
Reading a book by A W Tozer recently I found this: "Every farmer knows the hunger of the wilderness.  Let him neglect for a while his prized and valued acres and they will revert again to the wild.  What is for the farmer an observation, for the Christian is a parable.  What is true of the field is also true of the soul."
Every parable has its limits in application, but the picture of our spiritual lives as gardens which need tending is a helpful one. We have to 'weed' our spiritual lives, dealing with the faults and failings, rooting out the bad stuff.  We have to 'nurture' them, providing goodness to help growth.  The silver lining to these dark times is that we all have the time to tend more carefully to our spiritual health and well being. Although, as the usual means of worship and fellowship have been suspended, we have to do more for ourselves and perhaps be more disciplined.
Christchurch is providing as much help as is possible, given the circumstances.  There are 'Thought for the Day' and sermons online.  But do take time to read the Bible, perhaps a bit more than usual.  "Let the word of Christ dwell in you richly" Col 3:16.  Maybe set yourself a target of reading two or three chapters a day or a gospel every week.  There is more time to read a Christian book.  Use Jeanette's weekly list of worship songs.  But take time also to reflect on where the 'weeds' are, perhaps by using Psalm 139   – "Search me, O God, and know my heart".
These are tough times for everyone.  So my encouragement to you today is to use this time to  "…grow in the grace and knowledge of our Lord and Saviour Jesus Christ."  2 Peter 3:18
If we all carefully tend our spiritual health as well as our gardens it will be a bloomin' wonderful summer.
Remember, you can send your prayer request to: Prayer@baystonhillchurch.org      Or ring: (01743) 583215
And you can read these Thought for the Day articles on our website too at www.baystonhillchurch.org
John Langridge
TFTD Thursday 26/03/2020
'Be still before the Lord and wait patiently for him.' (Psalm 37.7)
The big question in everyone's mind is how long the present crisis over the coronavirus emergency is going to last. Suddenly time seems to be going much more slowly under present restrictions. We aren't used to having time on our hands, and it can feel uncomfortable. Plans are on hold; many activities have come to a standstill. As human beings we can only live in the present, although our minds may dwell on the past, and our expectations may be focused on the future.
The young couple who live opposite us have just welcomed a new member into the family. The little chap didn't seem in a hurry to arrive; perhaps he thought things weren't looking too great in the big, wide world! He was several days overdue. All mothers know about the way time drags on in the final stages of pregnancy.
The Psalmist tells us to wait patiently for God's time. At present this means resting in his presence and not being anxious about what is going on around us. No-one knows how long this situation will last. Of course there are practical things we can do to help one another, while being careful to observe the precautions everyone must take to avoid spreading the disease. Somehow life must go on. But God alone is the one who knows the end from the beginning. The rest of us must live each moment as it comes, waiting for God to reveal his good purposes for his creation.   
John Tiller
Remember you can send your prayer request to:
Prayer@baystonhillchurch.org
Or ring: (01743) 583215
And you can read these Thought for the Day articles on our website too at www.baystonhillchurch.org
TFTD Wednesday 25/03/2020
Dear friends.
Blessed be Lord, the God of Israel , he came and set His people free ( Luke
1, 68 ) we read every morning in Anglican morning prayers. As I travelled to
work yesterday (as a key worker I'm allowed to travel) the roads were largely
empty. A few early morning joggers were exercising on the pavements but
the world felt empty. It isn't, of course, most of the population were in lock
down, obeying the strictures announced the previous night by the prime
minister.
But the verse from Luke, that we read every day, resounded in my ears as I
contemplated the enforced lack of freedom we're all being asked to abide
by.
And yet, we are free, aren't we – we have the freedom to worship, albeit not
communally at present, and more importantly we can experience the
freedom that Paul talks about in Galatians 5 verse 1.
"It is for freedom that Christ has set us free. Stand firm, then, and do not let
yourselves be burdened again by a yoke of slavery."
Are we experiencing a yoke of slavery in our lives? Is there anything which
keeps us behind metaphorical locked doors rather than experiencing the life
giving freedom and healing of the Holy Spirit. I'm reminded of a verse written
by Charles Wesley:
"Long my imprisoned spirit lay
Fast bound in sin and nature's night;
Thine eye diffused a quickening ray,
I woke, the dungeon flamed with light.
My chains fell off, my heart was free;
I rose, went forth, and followed thee."
I pray that each one of us will experience a freedom of heart, the loosening of
those chains that might still hold and bind us, increasing freedom to worship
from the depth of our being – spiritual freedom, whilst we are physically
'locked down'.
May you know the peace and presence of our Loving Heavenly Father during
these days of trial.
God bless you. Ursula.
For prayer requests: prayer@baystonhillchurch.org. Or ring: (01743) 583215
TFTD Tuesday 24/03/2020
'God is our refuge and strength, an ever-present help in trouble. Therefore we will not fear, though the earth give way and the mountains fall into the heart of the sea' (Psalm 46:1-2)
As you can imagine, this thought went through many stages before it reached you all this morning having been started before Boris Johnson's 8.30 announcement. My coping mechanism is to turn bad situations in to a joke, but now is not the time.
Human interaction and community are such a huge part of life on earth. We weren't called to be alone. Yet suddenly we have a new calling, one that confines us to our house except for very specific circumstances.
It might seem as if a lot has changed, because it has! But for those of us with faith, some things remain the same. God was a help to David around 1,000 years before Christ and he can be our help now.
We might not be able to invite our friends in for a cuppa and a chat, but we can invite God in, He remains an 'ever-present help in trouble.'
The first line of an old hymn springs to mind: 'The church's one foundation is Jesus Christ her Lord…' Despite the fact we can no longer gather in one place Jesus remains our foundation and no virus can get in the way of that relationship.
It has been said that Martin Luther the 16th century reformer would say; 'Come let us sing the forty-sixth psalm.' When he heard discouraging news.
We have all just heard discouraging news, but this psalm can encourage us to hope and trust in God, in his power and gracious presence with His church.
Remember, you can send your prayer request to:
Prayer@baystonhillchurch.org
Or ring: (01743) 583215
May God's presence be with you.
Rev Rachael Farnham
TFTD Friday 20/03/2020
As I was praying, God reminded me of the story of David and Goliath (1 Sam 17). At the moment, the corona virus feels like a Goliath. It is bigger than we are, it feels unstoppable and it is threatening. Just as the Israelites normal existence was being rattled by Goliath, so our daily routines have been shaken by Covid-19. Yet, as we know, Goliath didn't win. David went into battle with him without any of the armour the king was offering him. He trusted that the Lord who had rescued him from both bears and lions would also be able to rescue him from Goliath.
Now I know it is dangerous to take the analogy too far or it will start falling apart. It is dangerous for us to run at corona virus as David ran towards the battle line with Goliath, however, like David we can rely on God. We can approach this time of social distancing and isolation with the Lord Almighty on our side. Even though we can't make it to church we can still pray – we are still members of one body. We can share our needs with one another and with God. Despite our distance we remain a worshipping community.
And so as we face this strange time where we can't all meet together I'd encourage you to connect in other ways.
Keep calling each other, make video calls. Let others know your prayer requests. And know that we as a leadership team here at Christ Church are praying for you. I leave you today with Romans 8:31 – 'What, then, shall we say in response to these things? If God is for us, who can be against us?'
Remember you can send your prayer request to:
Prayer@baystonhillchurch.org
Or ring: (01743) 583215
Rev Rachael Farnham
TFTD Saturday 21/03/2020
I was watching the birds enjoying the bird feeder and bird bath in the garden
yesterday afternoon. Oblivious to the trauma of coronavirus the blue tits and
robin greedily pecked at suet blocks. The resident squirrel watched – waiting
to try and sneak up unnoticed – and a blackbird was having a wonderful time
preening himself and splashing about in the water. For them, life had not
changed – all is as it usually is. But for us, of course, our lives and culture are
much changed compared to even just a few weeks ago.
Of course we worry about our health, jobs and families, about how we will
manage over the coming weeks and months, and to suggest otherwise
would be denying reality. But as I watched the birds yesterday I was
reminded of Matthew 5 verse 26 – in The Message version of the bible it
reads:
'Look at the birds, free and unfettered, not tied down to a job description,
careless in the care of God. And you count far more to Him than birds.'
As I watched the birds and thought about that verse, I saw that we are part
of a bigger plan. God's plan. Not only here on earth but also in heaven. Why
disasters happen, why pandemics rupture our usual patterns of life – these
questions have troubled far more learned folk than me over the centuries –
but what I saw, as I watched the activity in the garden, is that there is an
eternal truth in the words ' And you count far more to Him than birds'
I pray, that whatever your circumstance you will know God's peace and
presence with you at this time.
God bless you.
Ursula.
TFTD Thursday 19/03/2020
"Peace be with you!" John 20:19
This is the first 'Thought for the Day' that we are sending out for you to read and to encourage you…we want you to know that God wants us to have peace, His peace, in these present circumstances with the onset of Covid-19.
You may not have much peace in your life right now. All around us, people are 'reeling' from the sudden changes brought about by the Coronavirus, and the fear it is spreading.
Schools are about to shut.
Businesses and livelihoods are under real financial pressure.
The elderly and the vulnerable are living with the daily reality of being those who are most at risk from this virus.
People are having to cancel weddings and practise 'social distancing'.
At a time when we feel we want to offer comfort to each other we are advised to 'keep your distance'.
But Jesus, right in the midst of this says, "Peace be with you!" God hasn't abandoned us in this time of crisis.
He says, 'I am with you in it'!
Think about it for a moment…who does Jesus say these words to?
He says them to disciples who are living in fear for their lives. They have seen their friend, Jesus, taken away and killed in the most cruel way possible. And they may be next to die.
Peace was the one thing they most certainly didn't have. You can't have peace when you think that someone is about to arrest you and crucify you!
Then a voice said, "Peace be with you". Not just any voice – Jesus's voice.
How we need the peace giving Spirit of Jesus. How much does this world need to know that too.
"Peace be with you! As the Father has sent me, I am sending you."
Whatever you are going through right now, Jesus has promised to be with you.
Turn to Jesus, and He will give you His peace.
Or send your prayer request to:
Prayer@baystonhillchurch.org
Or ring: (01743) 583215
Peace be with you!