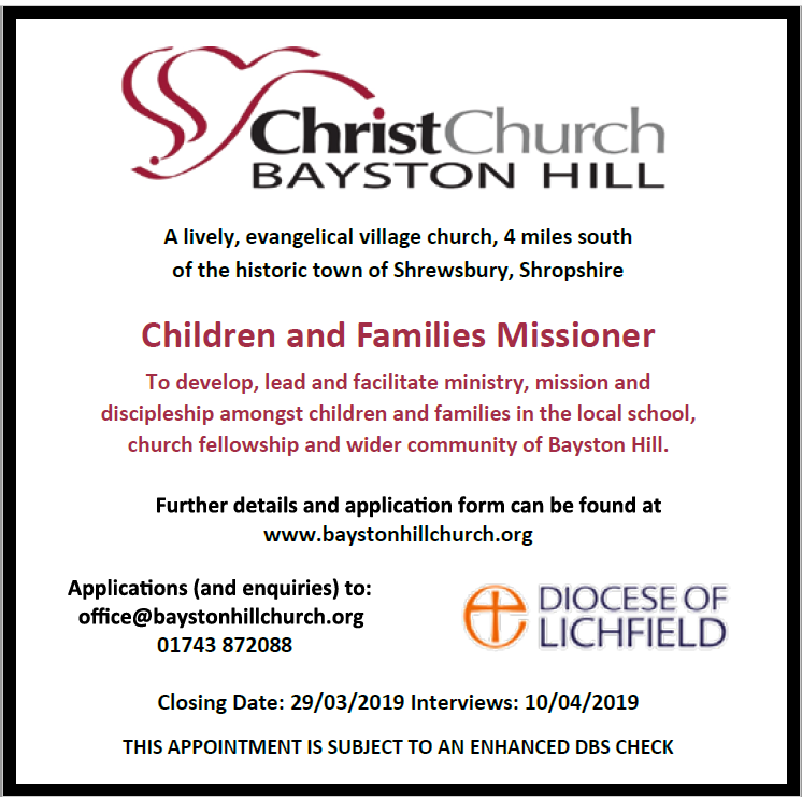 Hello!  I'm so glad that you may be considering applying for this post…it is a post that we at Christ Church have been praying long and hard about, and we are now very excited to be at this point of advertising it! But I'm guessing a few words of introduction about the post, and our church, and the village of Bayston Hill will help you decide to go any further or not!
To help you get to know the church and the community of Bayston Hill, you will find a 'Parish profile' which will hopefully give you an idea of the sort of church we are, and what the village of Bayston Hill is like. I'd encourage you to read that carefully alongside the Job Description which is another really important piece of information to digest! If you want to visit us on a Sunday (or another time) that's fine, just get in touch, as that may well help you to get a feel for the area. Or just give me a ring (01743 622172) and I'll happily have a chat with you! If, after all that, you would like to apply for the post, you will need to fill in the Application Form, and return it before the deadline of 29th March 2019.
This post has a huge amount of potential, and the church is praying for the right person to apply! There are a growing number of families who are engaging with church, and there are many more families to reach with the Good News in Bayston Hill, and the church community is ready to do all we can to facilitate the post holder in this pioneering role. I pray you will know God's encouragement to apply, and I look forward to hearing from you!
Rev Peter Hubbard